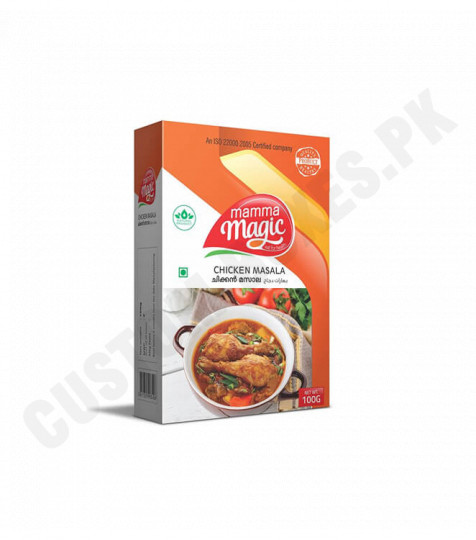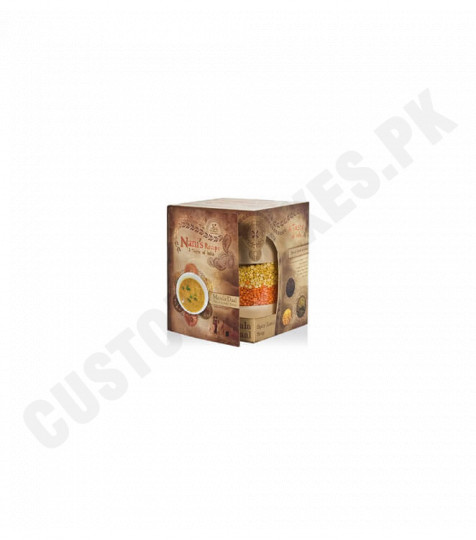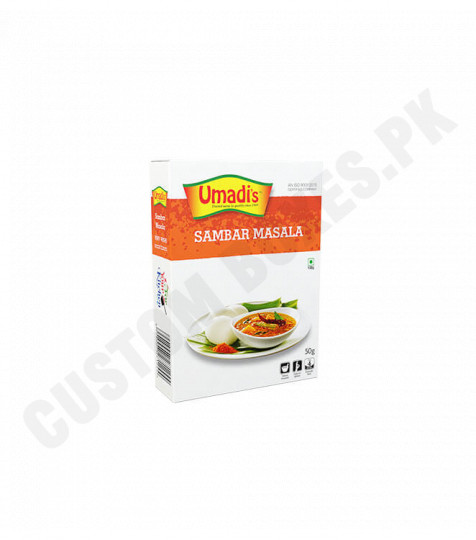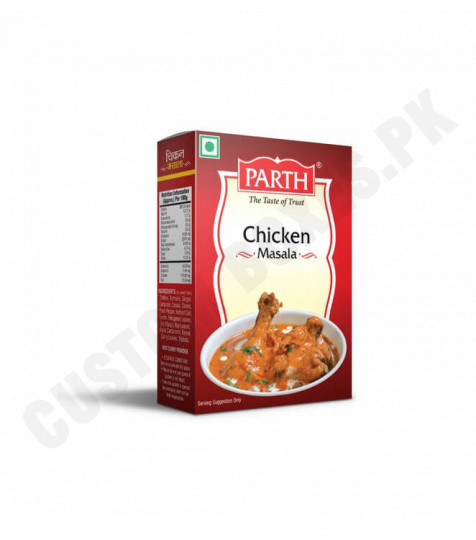 Masala Boxes
Product ID:24
Available in all Custom Shapes and Sizes

Stock / material
12pt, 14pt, 16pt, 18pt & 24pt White SBS C1S C2S
Finishing / detailing:
Glossy, Matte, Aqueous Coating, Spot UV
Add Ons:
Die cut window, gold foiling/silver foiling, raised ink, embossing, debossing
Packaging:
Assembled and shipped flat
Structure:
Eco-friendly assembling.
1. What is your standard turnaround time?
Before the printing begins, the specification sheets are sent for approval. Once approved, our standard turnaround time is 8 to 10 business days.
2. Is there any way I can get fastest shipping?
Customer pay additional fee in order to avail fastest shipping that is within 6 to 8 business days.
3. Can I print custom/my own artwork?
We offer a diversified range of printing therefore we do entertain customer with customized artwork.
4. How do I make sure what would be finish product look alike?
We let the customer have a look at the proof before the final product is processed. This allows customer to notify amendments timely. However for bulk orders we choose to send a sample to customers with an additional fee to ensure the product is designed according to what the customer demands.
5. Can I get wholesale prices?
Wholesaler can avail unique programs that will allow them to benefit from distinct discounts.
6. Do you ship outside of Pakistan?
The shipment within Pakistan is free of cost. However additional fee is charged from customers in UK, Australia, Canada and USA.
7. Which payment methods you accept?
We are currently accepting Visa, Master, Amex, Discover, Check, Or PayPal.
8. What form does the boxes shipped?
All Boxes are shipped pre-assembled.
9. Which printing method you use?
We have inbuilt highly advanced printing that is operated by highly skilled Labor force.
10. What file type you require for printing?
The format entailed is PSD, PDF and AI format with a minimum of 300dpi file for printing.
Masala boxes as the name defines are a secured packaging solution for different kinds of masala. With thinner texture, these boxes are designed with an aim to satisfy the need of the consumers at large, i.e. boxes that can easily carry the weight of the masalas. Produced in rectangular shape with the top lid open, these packaging boxes are a blessing to preserve masala's and keep them fresh for longer time period. For commercial masala manufacturers, these custom masala boxes provide sound satisfaction in order to store the production for long time. It includes the use of attractive colors, use of slogan, and the theme of the manufacturer can also be displayed.
Advantages of using Custom Printed Masala Boxes
Are you new in the sector? As a beginner, you must be looking forward to opt strategies that can help get what can help you grow. Printed masala boxes is the answer.
Masala boxes are simple packaging boxes that can be designed in a way consumers demand. These boxes are widely consumed for packaging as the top lid is glued. Thereby, making it an ultimate airtight solution that makes it perfect for preserving the variety of masalas. Retailers also want to showcase the products with proper packaging. They find it easy to decorate these boxes properly and in an organized way into their racks.
When it comes to distinguishing yourself from the other brand, the best one can do is to have their unique name printed. Of course the name of masala's cannot be altered. Just like the other business owners distinguish themselves with a unique brand name, one can always have this option to come up with a unique name and logo so they are easily recognized. Selling your product in the box packaging is actually a perfect way to introduce your product in the highly competitive market.
Space to mention ingredients
Selling the Masala's in the packet is a much different thing than selling it in the box packing. One can ensure the hygiene maintaining by listing down the products added plus other key factors that your targeted audience that your customers may be looking for. When printed using state of art digital technology and logo embossed, these are converted into a fine promotional solution for the manufacturer. We at customboxes.pk are concerned about how to deal with the specifications you provide.
When we talk about food items then the taste always comes first. The other useful benefit that can be availed by packaging the masala in boxes is the surety of taste. Whether these custom masala boxes are decorated on retail shops or shipped to other countries, our special cardboard boxes do not let the taste to get changed. It serves as a great milestone for the manufacturer whose reliability depends upon the consistent taste. It is only possible when appropriate packaging boxes are used to save masalas.
This is a dummy content.This is a dummy content.This is a dummy content. This is a dummy content. Th...